August 2, 2022
9th EDITION OF THE NORTH CAROLINA COLLEGE ATHLETICS MARKETING SUMMIT MARKS THE START OF THE ACADEMIC YEAR
 This annual tradition is believed to be the only one of its kind in the United States
 Wilmington, NC  – On the campus of the UNCW on Monday, August 1, college athletics administrators from around the state gathered for the 9th Edition of the North Carolina College Athletics Marketing Summit, a forum designed to share best practices and to learn from the some of the best in the industry. Over 70 professionals registered for this free event; a day in which 22 schools of varying sizes and divisions were represented throughout the day's summit.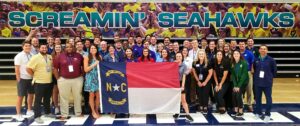 The summit is the brainchild of Mike Odom (formerly the Associate Athletic Director, Wake Forest University) and Tim George (once the Senior Associate Athletic Director, UNCG). After year one, Trip Durham (Founder, 2D Consulting and NACMA Past President) was brought on board to assist.
"At the risk of sounding self-serving, we wanted to do this to give back to an industry that has been so important in our careers," agreed Odom and George in a joint statement. "Each year, in this ever-changing marketing landscape, especially in the wake of COVID, people are thirsty for more and more information on how to not only do their jobs better but to also keep up with how the industry is evolving."
Rob Brickels, Associate Athletic Director at UNCW, collaborated Durham and Courtney Callahan (who has now attended every summit), along with a programming committee, in hosting the summit held on the floor of the Trask Coliseum. TNT Ad Specialties (https://www.tntadspecialties.com) provided meals and swag for the attendees.
The agenda from Monday, August 1:
Time             Event                         
8:00a            Registration and light breakfast, provided by TNT Ad Specialties
8:30a            Welcome, Summit Organizers and UNCW AD, Jimmy Bass
8:45a            Ice Breaker
9:00a            Keynote: Larry Long – "Giving you a JOLT!" (https://larrylongjr.com/)
9:45a            Break
9:50a            Sessions #1, In Game Production (Olympic Sports)
10:10a           Session #2, In Game Production (New and Different)
10:30a           Report Out, Group Learnings from Sessions #1 and #2
10:45a           Session #3, Breakouts, covering five different starting conversations
11:30a            Report Out, Group Learnings from Breakouts
Noon               Lunch and campus tour, provided by UNCW
1:15p               Brown Bag, Blind Promotional Item Exchange
1:30p             Session #4, Bridging the Gap " – An Honest Exchange between YPs and Veterans"
1:50p             Session #5, Building a Better Bridge – Dynamics within the athletics department
2:15p             Wrap
2:45p            Networking Practice, hosted by TNT Ad Specialties at Dockside
The 2023 summit, being billed as the "10th Edition" is scheduled to be hosted at Duke University.